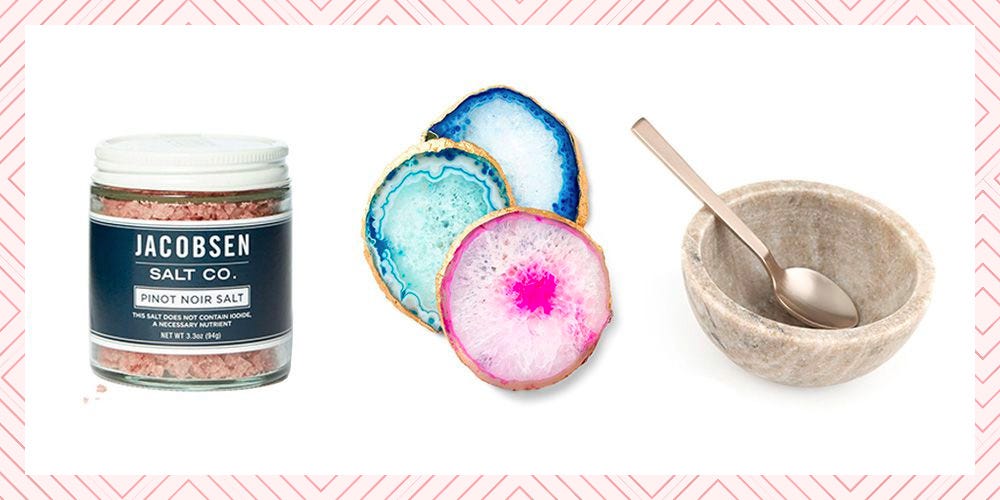 1 of 46
Hello Gorgeous iPhone Case
$27
SHOP NOW
Remind your BFF of how beautiful and fabulous she is with this playful iPhone case.
3 of 46
Leopard Print Scarf
$19
SHOP NOW
If you can't get enough of leopard print this year, finish off your collection with this light-weight oblong scarf. This is the perfect touch to your holiday party outfit!
4 of 46
$38
SHOP NOW
The only thing better than giving a gift of wine is sending your mom this cute marble coaster and stopper that'll keep it fresh for days.
5 of 46
St. Tropez Self Bronzing Mousse
$36
SHOP NOW
Give the gift of a radiant, bed-free tan with this St. Tropez self tanning mousse that will leave her looking like a bronzed goddess all year round. No sun required!
6 of 46
Bath Bomb Jar
$28
SHOP NOW
Whatever your recipient's pre-bath mood, she will reach into this bath bomb jar and find the relaxation she's looking for.
8 of 46
Vintage Blacksmith Lazy Susan
$35
SHOP NOW
Never reach over the table for a condiment again with this rustic Lazy Susan. Plus it's on sale!
9 of 46
2019 Planner
$28
SHOP NOW
Help your coworker stay organized into the new year with this vibrant 2019 planner that makes you happy just looking at it.
12 of 46
Moroccan Zuma Tribal Ivory Area Rug
$31
SHOP NOW
Help her add serious color to her home with this Moroccan-inspired rug.
13 of 46
Herbivore Botanicals Coco Rose Luxe Hydration Trio
14 of 46
Women's Organizing Travel 4-Pack
15 of 46
Dessert and Baking Salts
$19
SHOP NOW
Because sweet and salty is always a winning combo (especially when there are artisanal flavors like hibiscus and espresso involved).
17 of 46
Delicate Monogram Necklace
$38
SHOP NOW
A dainty accessory that's both personal and trendy.
18 of 46
Overnight Foot Care Kit
$18
SHOP NOW
This mini foot treatment is the perfect recharge for those times she doesn't have time for a full pedi.
19 of 46
Palette Teaspoons
$26
SHOP NOW
These adorable teaspoons are the kitchen knick-knacks she didn't know she needed (especially if she winds down each night with a cup of chamomile).
20 of 46
Hidrate Spark 2.0 Smart Water Bottle
$55
SHOP NOW
Staying hydrated is more fun than ever with this smart water bottle — it gives off a pretty glow when it's time to drink up.
21 of 46
Agate Coasters
$20
SHOP NOW
Give her glass some extra class with these colorful coasters.
22 of 46
Mistral Rock Formation Bar Soap
$8
SHOP NOW
These French-milled bars are wrapped in stunning designs, but the insanely fresh scent is the true winner here.
23 of 46
Marble Salt Bowl and Spoon Set
$13
SHOP NOW
Add a simple accent to any kitchen with this artisanal salt set.
26 of 46
Marble Pattern Ceramic Storage Canister
27 of 46
L'Oréal Infallible Paints Eyeshadow Metallics
$9
SHOP NOW
This shimmery palette will make her eyes shine.
28 of 46
Rose Quartz 9-Piece Brush Set
30 of 46
Umbra Aquala Bamboo and Chrome Bathtub Caddy
$35
SHOP NOW
With room for a wine glass and a book, this caddy promises the most relaxing bubble bath ever.
Share this post if you enjoyed! 🙂